JEWELLERY STORY – MY SUNNY SOMEDAY CHAPTER 3
The Final Chapter: After befriending Mike and Bianca in a coffee bar Nu Davidson – wedding planner and events coordinator extroardinaire asked them if they would model a selection of Scarab Jewellery for an impromptu photoshoot. Mike and Bianca agreed. Photographer Claire Thomson and make-up artist Minke du Plessis got to work and produced these lovely images of two ordinary people going about their day wearing a few of our favourite pieces. In Chapter 3 of our jewellery story, we introduce some new fabulous pieces for Bianca to wear.
Bianca wears the new Multi-Strand Blackened Chain Cuff bracelet interspersed with 7 moonstone charms set in solid yellow gold "secret scarabs". The cuff also has a further sparkling surprise – a round brilliant cut diamond set in yellow gold. At once "Rock Chick" chic, and yet on closer inspection, in a class of its own. Completely glamorous in an unassuming way – day wear that can easily be worn out at night.
The new "Secret Scarab" rings that were introduced in Chapter 1 of our story, now has a lovely counterpart as a pendant – a single 7×5 mm Swiss Blue Topaz cabouchon glows from a solid gold setting with a "secret scarab" engraved on the reverse. In a surprise twist the gold pendant hangs from a blackened silver belcher adjustable chain.
Introducing the new Silver Swiss Cross earrings in three colours – black diamond, red sapphire and green tsavorite. Bianca wears the black diamond earrings and two new eternity rings with black diamonds and cognac diamonds which completes the her look to perfection. Shown below the stack includes a white diamond gold flute ring – simply stunning.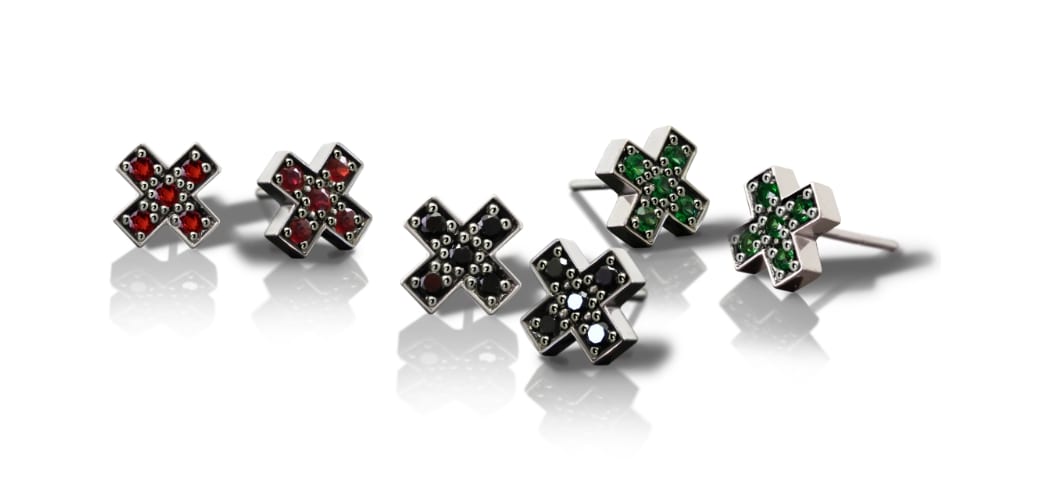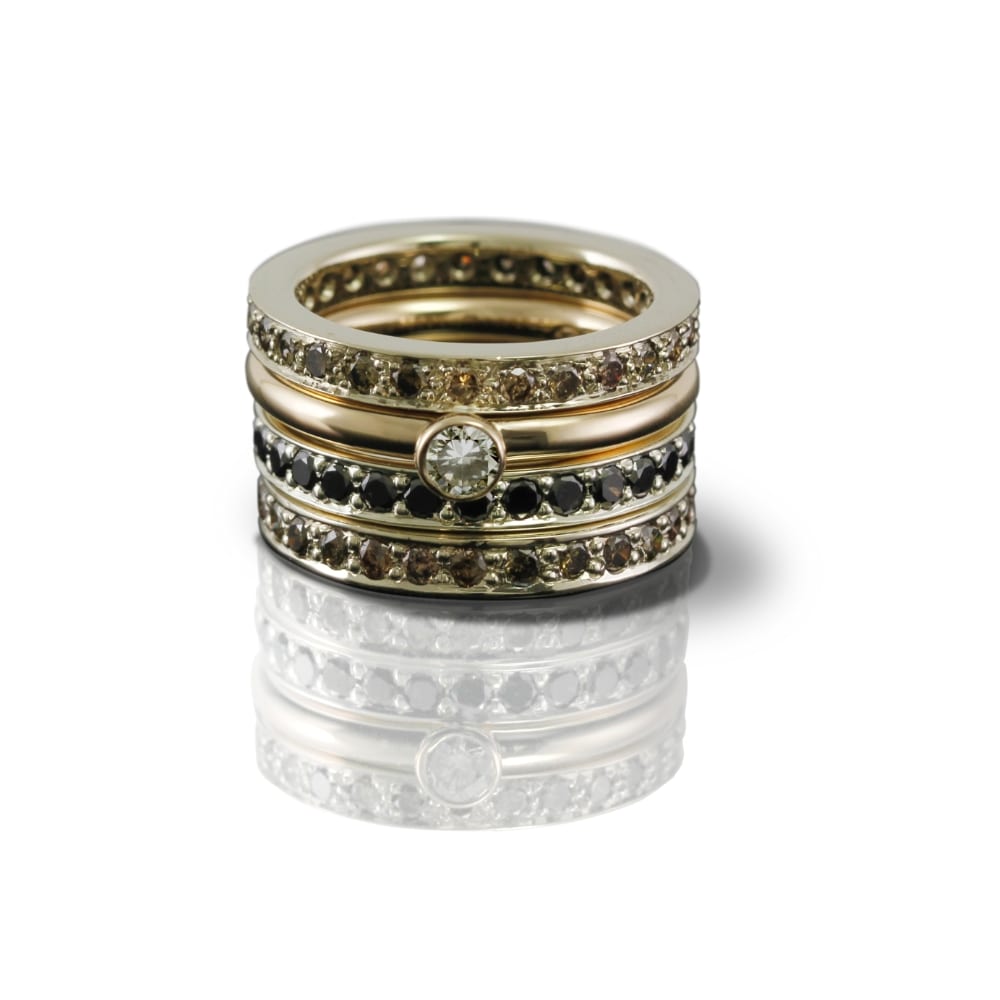 We loved having Mike and Bianca model our jewellery pieces – and hope to see them again some Sunny Someday. As mentioned before, we are expanding our range of jewellery for men – see a selection of Wedding Rings for men and our new Silver Moonstone Cufflinks. Also remember that we specialise in bespoke design and upcycling your current pieces you don't wear into something new.